NEW HydroLUX Online Theory Workshop
Module
Hydrodermabrasion has fast become the technology of choice for many clinics that aim to provide their clients with a superior form of microdermabrasion that also delivers the added benefits of enhancing the absorption of cosmeceutical ingredients. This online learning workshop will empower you with the knowledge and skillset to safely and effectively perform results driven hydrodermabrasion service that meets the needs of every client.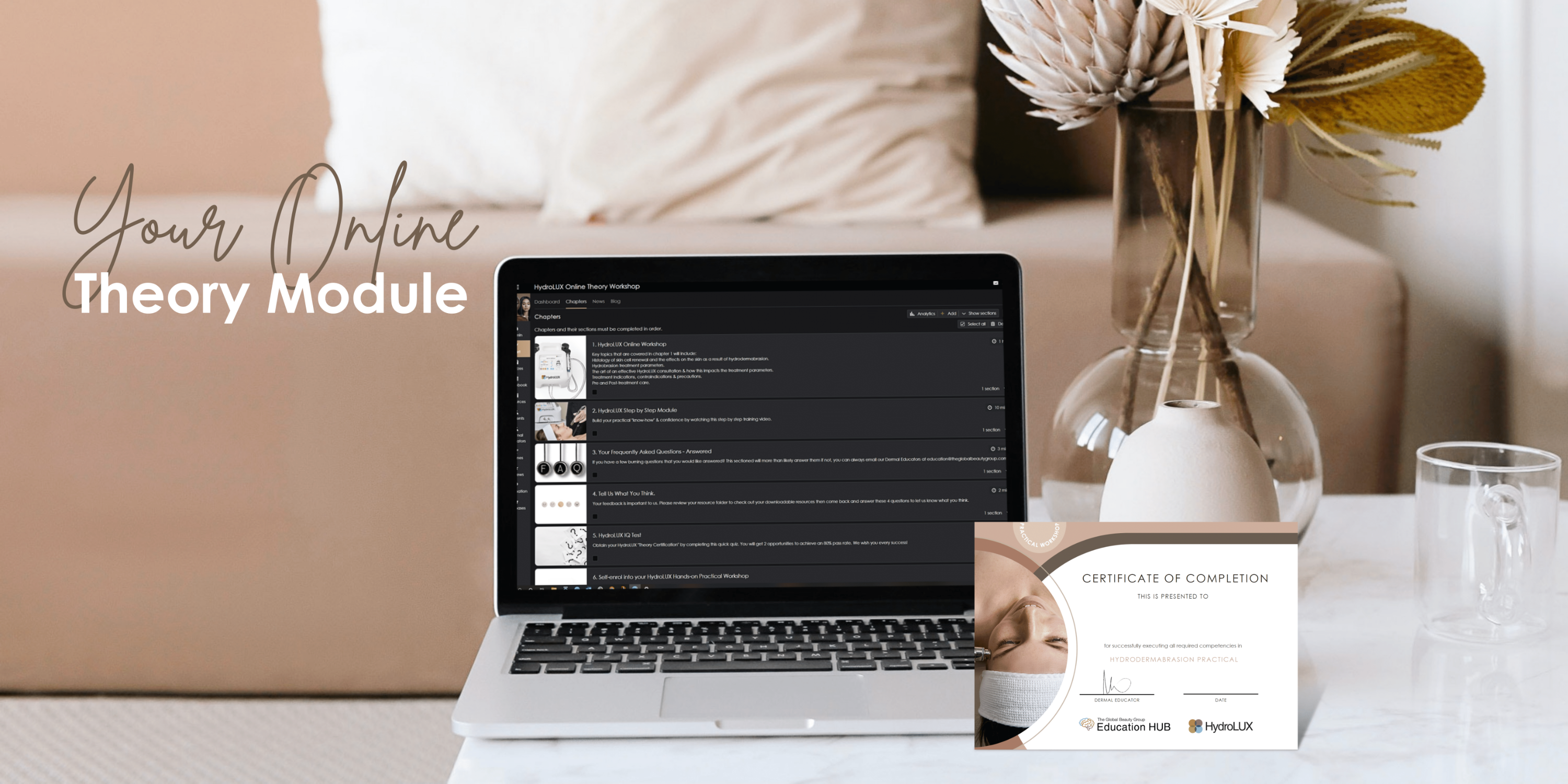 Here is the module outline:
1. OPTIONAL Understanding Skin Cell Renewal, Keratinization & Desquamation
THIS IS AN OPTIONAL CHAPTER One of the key outcomes of HydroLUX Treatments is that we have the ability to positively impact the skin's natural renewal process and provide our clients with smoother, more hydrated, glowing skin. To better understand the impact of a HydroLUX treatment, we are first going to take a journey through the life of an epidermal skin cell from birth all the way to the end stage of its life cycle. We'll also explore how this process is impacted by the ageing process and learn more about how this process impacts common skin conditions such as congestion and pigmentation.
2. Introduction to Wet & Dry Microdermabrasion
Wet and dry microdermabrasion are two different techniques used for exfoliating the skin with the HydroLUX. Both methods involve removing the outermost superficial layer of dead skin cells to reveal smoother and more youthful-looking skin. However, the key difference between the two lies in the application of the technique and the presence or absence of a liquid medium. This chapter will expand your knowledge of microdermabrasion and give you a deeper understanding of how this modality benefits the skin on a cellular level.
In this chapter, we will explore some of the key benefits of the versatile technology used in the HydroLUX device and give also highlight the eight different tips that can be used with the handpieces and how they can be used in combination the flow, suction Press 'Start' to start your learning journey.
4. Effectively Preparing For Your HydroLUX Treatment
In this chapter, we will explore how to prepare for your client prior to performing HydroLUX treatment. We will also ensure that you are able to perform an effective consultation and identify the key indications as well as the contraindications to wet or dry microdermabrasion with the HydroLUX device.
5. Your HydroLUX Treatment & Aftercare
Join us in unlocking the steps to mastering the art of HydroLUX microdermabrasion, and get ready to provide your clients with exceptional care and transformative results!
6. Your Frequently Asked Questions - Answered
If you have a few burning questions that you would like answered? This sectioned will more than likely answer them if not, you can always email our Dermal Educators at education@theglobalbeautygroup.com
7. Tell Us What You Think.
Your feedback is important to us. Please review your resource folder to check out your downloadable resources then come back and answer these 4 questions to let us know what you think.
Obtain your HydroLUX "Theory Certification" by completing this quick quiz. You will get 2 opportunities to achieve an 80% pass rate. We wish you every success!
9. AUSTRALIA Self-enrol into your HydroLUX Hands-on Practical Workshop
Once you have passed your online theory exam and obtained your certificate, you will be eligible to self-enrol into one of the HydroLUX practical workshops held at our Sydney & Melbourne-based training centres. NOTE: If you have any questions regarding your practical bookings please contact our customer service team at: training@theglobalbeautygroup.com
Completion
The following certificates are awarded when the module is completed:
| | |
| --- | --- |
| | HydroLUX Theory |