OBSERV 520x Workshop
Module
The ability to effectively analyse the client's skin has always been pivotal to the overarching success of any treatment or homecare prescription. A thorough client history and in-depth visual analysis work together in synergy to help us truly understand the client's skin in its entirety. This online workshop is designed to ensure you get the most out of your OBSERV 520x. In this interactive and engaging online workshop, you are going to guide you through 5 chapters that are going to give you everything you need to know how to set up your OBSERV 520x unit and App as well as your consultation area. We will also provide you with an in-depth understanding of each Illumination mode, how they work and how you can use these modes to help you gain a more thorough understanding of the client's overall skin health and skin condition. You'll also find demonstration videos, downloadable scripts and much more.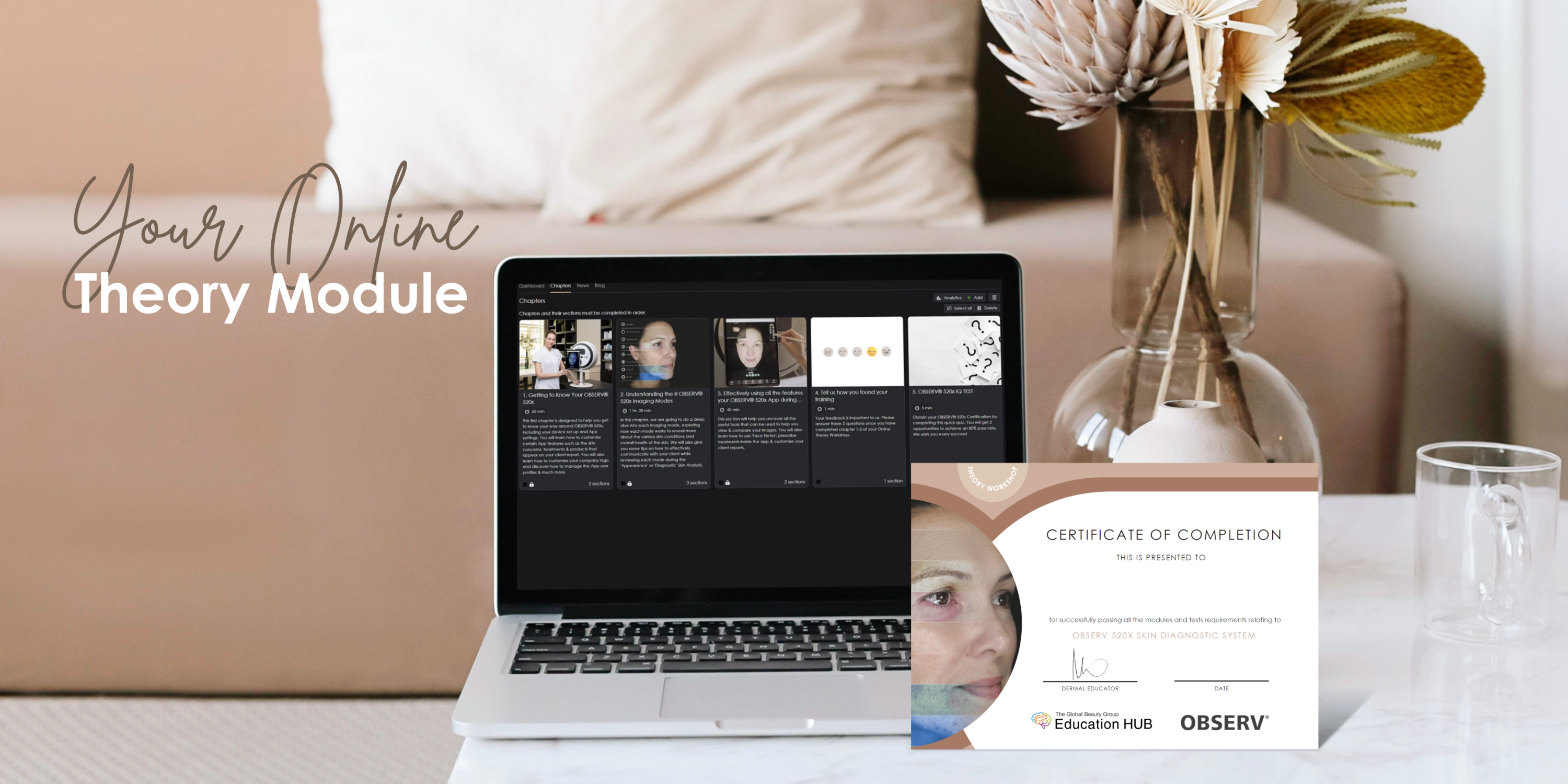 Here is the module outline:
1. Getting to Know Your OBSERV® 520x (OPTIONAL)
This first chapter is designed to help you get to know your way around OBSERV® 520x, including your device set-up and App settings. You will learn how to customise certain App features such as the skin concerns, treatments & products that appear on your client report. You will also learn how to customise your company logo and, discover how to manage the App 'User Profiles' & much more. IF YOU DONT WANT TO KNOW HOW TO SET UP YOUR DEVICE PLEASE GO TO CHAPTER 2.
2. Understanding the 9 OBSERV® 520x Imaging Modes
In this chapter, we are going to do a deep dive into each imaging mode, exploring how each mode works to reveal more about the various skin conditions and the overall health of the skin. We will also give you tips on effectively communicating with your client while reviewing each mode during the 'Appearance', 'Diagnostic' or 'Aesthetic Skin Analysis'. You will also learn about the new Aesthetic Analysis Light mode!
3. Effectively using all the features your OBSERV® 520x App during your skin analysis
This section will help you uncover all the useful tools that can be used to help you view & compare your images. You will also learn how to use 'Face Notes'; prescribe treatments inside the app & customise your client reports.
4. OBSERV Case Studies Unpacked (optional)
Congratulations on getting this far with your OBSERV Education Journey. To help solidify your learning, we have also provided you with this optional OBSERV Webinar Series, which aims to help cement your learning through by unpacking various OBSERV Case studies. You will get the chance to see real OBSERV images of real people and see examples of how to bring these images to life through the art of an effective client consultation. We will be adding to this library and will notify you of any additional case studies that get added.
5. Tell us how you found your training
Your feedback is important to us. Please answer these 2 questions once you have completed chapter 1-3 of your Online Theory Workshop.
Obtain your OBSERV® 520x Certification by completing this quick quiz. You will get 2 opportunities to achieve an 80% pass rate. We wish you every success!
Completion
The following certificates are awarded when the module is completed:
| | |
| --- | --- |
| | OBSERV® 520x Workshop |